Heavy Metals and Chemicals 
Scroll below for a list of the heavy metals used in the manufacturing process for each of the current FDA approved breast implants: Allergan (saline & silicone), Mentor (saline & silicone), Ideal (saline), Sientra (silicone). These lists are derived directly from each manufacturer and specific implant's FDA Summary of Safety and Effectiveness Data (SSED), links are included. You can show the list of heavy metals for your specific implant to whomever is doing your analysis so each metal can be tested for. Scroll further for analyses of the chemicals in the PIP and Dow silicone breast implants.
Effects of Heavy Metal Exposure:
Heavy metals are neurotoxic. The brain and central nervous system are particularly vulnerable. Negative health effects include: they get deposited in fatty tissues and bones, displace minerals and disrupt metabolic functions, support the development of fungal, bacterial, and viral infections (particularly fungal), upset digestion, alter endocrine and gland activity, and damage organs such as the liver and kidneys.
Most importantly, heavy metals disrupt metabolic functions in two ways:
1. They compete for the same receptors as our vital minerals, therefore they displace and hinder their physiological roles (ex. lead, fluoride, and aluminum displace calcium – they get stored and weaken the bones).
2. They accumulate and disrupt functions in vital organs such as the brain, bone, liver, kidney, heart, etc.
Toxic metals can cause damage by interfering, blocking, replacing, depleting, and poisoning many aspects of the body. There are hundreds of metabolic processes in the body where enzymes use either minerals or essential metals as cofactors to do their job and what heavy metals do is that by having similar configurations (molecular mimicry) they displace the good metals and minerals, and in doing so the enzymes do not work. Therefore whatever metabolic process you are doing – whether energy production, sugar metabolism, getting rid of toxins, etc. – the heavy metals can interfere with it. Additionally they create many imbalances with our healthy metals, elements and minerals: low calcium, low magnesium, low lithium, low iodine, low zinc, high copper, and more.
1. Heavy Metals in Silicone Breast Implants  
Allergan Natrelle Silicone:          Allergan Natrelle 410 Anatomical Silicone:


Separately, are also listed the heavy metal catalysts as:  Tin & Platinum
Sources – FDA SSED:
Mentor MemoryGel Silicone:      Mentor MemoryShape Silicone:


Sources – FDA SSED:
Sientra Silicone: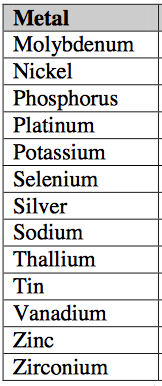 Source – FDA SSED:
2. Heavy Metals in Saline Breast Implants 
Allergan Natrelle Saline: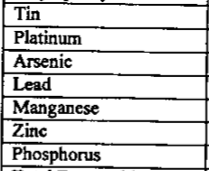 Source – FDA SSED:
Mentor Saline: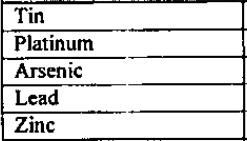 Source – FDA SSED:
Ideal Saline: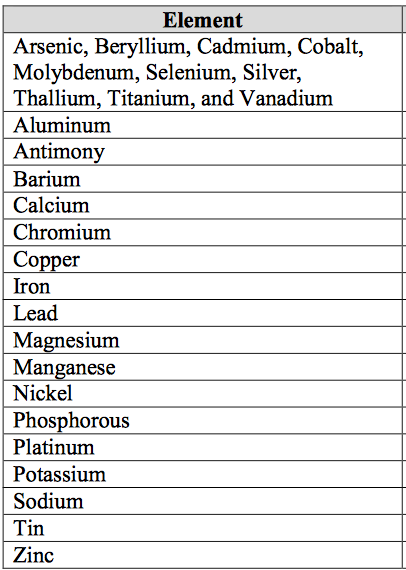 Source – FDA SSED:
– Other Breast Implant Chemicals –
PIP Implant Ingredient Analysis by Dr. Giangiacomo Beretta: 
Organosilicic compounds
Cyclotetrasiloxane, hexamethyl Trisiloxane, octamethyl Cyclotetrasiloxane, octamethyl Silanol, trimethyl
Tetrasiloxane, decamethyl Cyclopentasiloxane, decamethyl Pentasiloxane, dodecamethyl Siloxane 1, Siloxane 2
Cyclotrisiloxane, hexamethyl Cyclohexasiloxane, dodecamethyl Cycloheptasiloxane, tetradecamethyl Heptasiloxane, hexadecamethyl Hexasiloxane, hexadecamethyl Heptasiloxane, hexadecamethyl
Hydrocarbons
Hexane
Cyclohexane
4-Methyl octane
3-Ethyl hexane
Benzene
Decane
1-Nonadecene Ethylbenzene
p-Xylene
m-Xylene
o-Xylene
-Dimethoxymesytilene
Tetradecane
1-Fluoropropene
Aldehydes
Hexanal
Nonanal
Decanal
Benzaldehyde
4-Methylbenzaldehyde
Ketones
Acetone
Cyclohexanone
6-Methyl-5-hepten-2-one
-Diethoxyacetophenone
Alcohols 
1-Hexadecanol
1-Butanol
2-Ethyl hexanol
Esters
n-Octylacetate
Butylisobutyratel
Triacetin
Organic acid
Acetic acid
2-Methyl hexanoic acid
Pivalic acid
Butanoic acid
Crotonic acid
2-Ethyl Hexanoic Acid
Terpenes
d-Limonene
Junipenen
Miscellaneous
Acetonitrile
Chloroform
1,2-Dimetoxypropane
2-Acetoxyethanol
2-Butoxyethanol
Phenol
"Conversely, the total amount of the major polycylodimethyl- siloxane species (D4–D7 series), released at T = 37 ◦ C by the PIP gel and elastomeric shells, was around 3x higher than that released by the approved implant, highlighting the higher potential of PIP silicone to release these species by simple passive diffusion mediated by their evaporation at physiological temperature."
Source:
Analytical investigations on elastomeric shells of new Poly Implant Prothèse (PIP) breast and from sixteen cases of surgical explantation (2014). Link.
PIP implant analyses from the gov.uk Medicines and Healthcare Products Regulatory Agency (MHRA):
PIP Implant Ingredient Analysis by the UK MHRA:
Cyclohexane
Benzene
1,3-dimethylbenzene (o/m/p-xylene)
o/m/p-xylene
2,2,4,6,6-pentamethylheptane
Ethylbenzene
Toluene
2-methoxybenzoic acid methyl ester
2,3 -heptanone
Ethyl 2-methyl butyrate
Iso-amylacetate
1,1,2,2,-tetrachloroethane
Various siloxanes
Titanium, Nickel, Copper, Cobalt, Barium, Gallium, Manganese, Magnesium, Potassium, Iron
Platinum, Aluminum, Lead, Caesium, Selenium,
Etc.
Silicone Breast Implant Ingredients (Dow): 
Methyl Ethyl Ketone (neurotoxin)
Cyclohexanone (neurotoxin)
Isopropyl Alcohol
Denatured Alcohol
Acetone (neurotoxin)
Urethane
Polyvinyl Chloride (neurotoxin)
Amine
Toluene (neurotoxin/carcinogen)
Dichloromethane (carcinogen)
Chloromethane
Ethyl Acetate (neurotoxin)
Silicone
Sodium Fluoride
Lead-based solder
Formaldehyde
Talcum Powder
Oakite (cleaning solvent)
Methyl 2-cyanoacryltes
Ethylene Oxide (carcinogen)
Xylene (neurotoxin)
Hexon
2-Hexanone
Thixon-OSN-2
Stearic Acid
Zinc Oxide
Naptha (rubber solvent)
Phenol (neurotoxin)
Benzene (carcinogen/neurotoxin)
Lacquer Thinner
Epoxy Resin
Epoxy Hardener 10 and 11
Printing Ink
Metal Cleaning Acid
Color Pigments as release agents
Heavy metals such as aluminum, tin, lead, and platinum
Silica
Click here for detailed information on each chemical.