Expert Researchers
Listed below:
Dr. Pierre Blais (chemist), Dr. Arthur Brawer (rheumatology), Dr. JW Cohen Tervaert (medicine and immunology), Dr. Stephen Edelson (medicine), Dr. Lu-Jean Feng (plastic surgeon), Dr. Ernest Lykissa and Dr. SV Maharaj (analytical chemistry), Dr. Bernard Patten (neurologist), Dr. Bettina Pfleiderer (biomaterials), Dr. David Smalley and Dr. Douglas Shanklin (Immunobiology and Pathobiology), Dr. Yehuda Shoenfeld (medicine and autoimmunity researcher), Dr. Frank Vasey (rheumatology), Dr. Henry Dijkman (pathology), Dr. Eduardo Fleury (radiology).
Past researchers from the 1990s:
Dr. Britta Ostermeyer, Dr. HI Friedman and Dr. ME Jenkins (researchers), Dr. Eric Gershwin (immunology), Dr. MF Hall (pathobiology), Dr. Michael Harbut (medicine),  Dr. Terrance Patrick O'Hanlon (molecular and cellular biology), Dr. Oliver James Lawless (internal medicine), Dr. Emmanuel Ojo-Amaize (immunology), Dr. JB Peter (researcher), Dr. MV Stevens (immunobiology), and Dr. BO Shoaib (medicine). Other researchers: Dr. LA Love, Dr. S Okada, Dr. G Dick, Dr. VL Young, Dr. FW Miller, DR. RG Guidoin, Dr. J D Marceau, Dr. C Rolland, Dr. D Fleury, Dr. R Ledoux, Dr. SS Teuber, Dr. EJ Bar-Meir, Dr. CE Campbell, Dr. L Garrido, Dr. JO Naim.
DR. PIERRE BLAIS –
RESEARCH CHEMIST & EXPERT IN THE BIOCOMPATIBILITY OF IMPLANT MATERIALS. 
Dr. Pierre Blais is a chemist and expert in the biocompatibility of implant materials. He analyzed breast implants and conducted breast implant failure analyses for over 40+ years. Dr. Blais is a significant resource, he is a wealth of information on most breast implant matters. He retired in December 2019.
All articles on breast implants by Dr. Pierre Blais, click here. Topics include: rupture, cancer, breast feeding, polyurethane, saline implants, cohesive gel, explant problems etc.
Technology and composition of silicone breast implants
Truth on 'Cohesive' Gel Implant
DR. ARTHUR BRAWER –
RHEUMATOLOGY & SILICONE TOXICITY EXPERT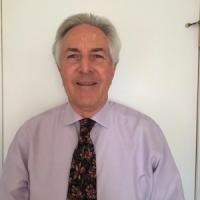 Dr. Arthur Brawer is a rheumatologist and silicone toxicity expert with over two decades of experience and research on women with breast implants. He shares his thoughts on breast implants and silicone toxicity in the following emails to our website.
Background: Arthur Brawer, MD, PA is an arthritis specialist whose educational career developed at Brandeis University, Boston University School of Medicine and Boston University Medical Center. For the past thirty-eight years he has maintained a private practice in Long Branch, New Jersey, and has been the Director of Rheumatology at Monmouth Medical Center. He has held the position of Associate Clinical Professor of Medicine at both Robert Wood Johnson Medical School and Hahnemann/Drexel College of Medicine. His research topics include arthritis, alternative medicine, environmentally-related ailments and others, which have been published in multiple peer-reviewed medical journals.
See here for emails from Dr. Brawer to this website, as he shares his thoughts on breast implants and silicone toxicity.
The Clever Deception by Silicone Gel-filled Breast Implant Manufacturers Regarding the Phenomenon of Gel Bleed (2019)
Case Report: Silicone is not fun in the sun (2018)
ASIA vs. the mechanisms of silicone toxicity (2017)
Mechanisms of Breast Implant Toxicity (2017)
Autoinflammatory Syndrome Induced by Adjuvants (ASIA) Syndrome is Misguided (2017)
Destiny rides again: the reappearance of silicone gel-filled breast implant toxicity (2017)
Breast Implant Toxicity (2016)
Bones, Groans, and Silicone (2012)
Amelioration of Systemic Disease after Removal of Silicone Gel-filled Breast Implants (2000)
In this cohort of symptomatic breast implant recipients, disease amelioration following explantation provides additional supportive evidence for the existence of a novel illness triggered by silicone gel-filled devices. The demonstrated improvement of systemic phenomena following implant removal was more likely to occur if these devices were in place for less than 12 years. Saline implants appeared capable of perpetuating systemic disease progression following an initial gel-induced disorder.
Silicon and matrix macromolecules: new research opportunities for old diseases from analysis of potential mechanisms of breast implant toxicity (1998)
Reports of silicone migration and degradation following insertion of gel-filled breast implants, claims of a novel systemic illness appearing in many breast implant recipients, and investigations implicating varied and permeating immunotoxic mechanisms of disease causation by breast devices.
The present study develops additional potential pathogenetic ideas based on alterations of cell biochemistry by silicon-containing compounds, and offers correlation of the patients' diverse clinical features with plausable disruption of basic biological processes.
Clinical features of local breast phenomena in 300 symptomatic recipients of silicone gel-filled breast implants (1996)
Chronology of systemic disease development in 300 symptomatic recipients of silicone gel-filled breast implants (1996)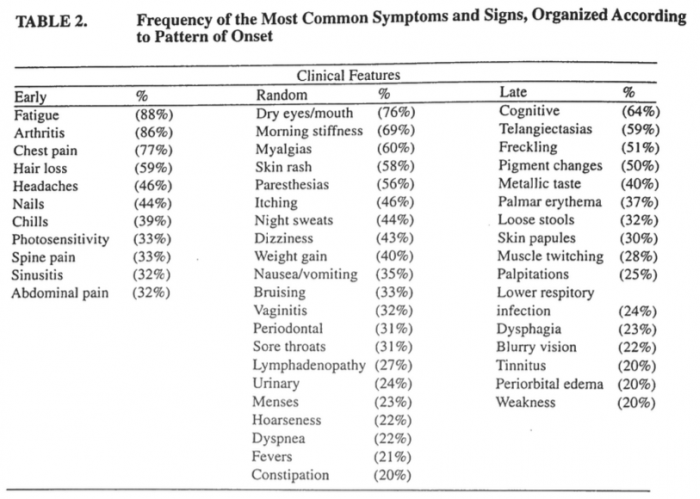 DR. JW COHEN TERVAERT –
MEDICINE AND IMMUNOLOGY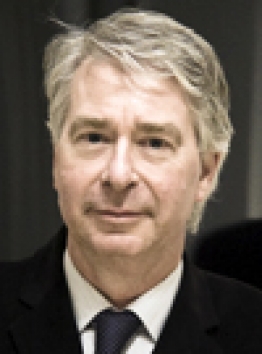 Dr. Jan Willem Cohen Tervaert MD, PhD is director of rheumatology at the University of Alberta in Edmonton, Canada. He moved from the Netherlands where he was a professor of medicine and immunology at Maastricht University. In Edmonton, he has a clinic for breast implant related illnesses:
Rheumatology Clinic
3A Kaye Edmonton Clinic
11300 University Ave NW
Edmonton, Alberta, Canada, T6G 1Z1
Tel 780-492-4883:
Background:
He was a founding member of the Autoimmunity Consortium. He was Chairman of the scientific advisory board of the Dutch Arthritis Foundation. Furthermore, he is a former chairman of the Dutch Scientific Section of Nephrology and a former board member of the Dutch Federation of Nephrology and the Dutch Society of Immunology.
He was the chairman of the Dutch Vasculitis Study Group and an active member of the European Vasculitis Study Group. In addition, he is a member of the scientific advisory boards that advises the Dutch Minister of Health, Welfare, and Sports on health care, environmental factors and medications in the Netherlands.
His fields of interest are inflammation and auto-immunity of disorders, such as atherosclerosis, vasculitis, and ASIA. Genes and the interplay with environmental factors such as vitamin D, silica and silicones in the development of autoimmunity have his special interest. He is (co) author of more than 400 scientific articles and a member of Editorial Boards of several scientific journals. This is information is from his professional profile, listed here.
Silicone implant incompatibility syndrome (SIIS): A frequent cause of ASIA (Shoenfeld's syndrome) (2013)
DR. STEPHEN EDELSON –
MEDICINE
Silicone arthritis and related diseases (1994)
According to Stephen Edelson, M.D., Immune Disorder Symptoms, sometimes occurring within months of implant, but often occurring 15 to 20 years after surgical implant, include the following:
Peripheral Neuropathy (weakness, tingling, numbness, etc.), Central neurotoxic Neuropathy (cognitive difficulties, memory problems, hyperactivity, attention deficits), Cervical and axillary enlarged or painful lymph nodes, fatigue, malaise, weight gain/weight loss, joint and tendon pain, hair loss, dry eyes & mouth, flu-like symptoms, burning skin, constipation, dizziness, enlarged lymph nodes, depres- sion, thyroid problems, hair loss, night sweats, fibromyalgia (multiple tender areas), Myositis (painful inflamed muscles), abdominal pain, emotional instability, chemical sensitivity, food sensitivity, and Pul- monary Hypersensitivity (shortness of breath).
It is believed that these are only the most observable symptoms. Some patients are only moderately ill, while others suffer damage to more than one organ of the body.
The truth about silicone breast implants (1994)
Dr. Edelson's list of Silicone Immune Dysfunction and Toxicity Syndrome symptoms includes:
Fatigue, malaise; memory loss, confusion, difficulty sorting information, lack of concentration; weight gain/loss, joint pain, muscle pain, hair loss, dry eyes and mouth, flu-like symptoms, burning skin, constipation, dizziness, blurred vision, sweating, diarrhea, "spacey" feeling, enlarged lymph nodes; anxiety and depression, thyroid problems' especially hypothyroidism; night sweats, fibromyalgia, bladder problems, irritable bowel syndrome, and abdominal pain; hyperactivity; elevated blood pressure or cholesterol.Gingival-dental problems, dysphagia, conjunctivitis; emotional instability, multiple chemical sensitivity, food and inhalant sensitivity; shortness of breath, myositis; heart irregularities; infertility; peripheral neuropathy, central neurotoxic neuropathy, cervical and axillary lymphadenopathy, pulmonary hypersensitivity with dyspnea; muscle burning, twitching, weakness; numbness and tingling; viral reactivation, joint and tendon pain, skin problems, anorexia, and hypoglycemia.
Pain syndromes in the chest or breasts are related to the inflammatory reaction that occurs with secondary oxidant release. Very common fatigue in women with silicone breast implants suggests mitochondrial damage (the mitochondria are the "power plants" of cells) as with mercury and many other xenobiotics.
All these symptoms result from the dysregulation and damage to the immune system and by damage occurring both directly and indirectly from the free radicals produced by our bodies in response to the chemical, silicone' as well as free radicals from other sources.
Patients with such a myriad of complaints (polysymptomatic) are commonly sent by conventional internists to a psychiatrist. But talk therapy is unlikely to help much; neuroleptic and nonsteroidal anti-inflammatory drugs may simply worsen problems by adding to the body burden of toxins to be detoxified.
DR. LU-JEAN FENG –
PLASTIC SURGEON SPECIALIZED IN MICROSURGERY
Understanding Breast Implant Illness, Before and After Explantation (2020)
Dr. Feng has testified before the Institute of Medicine's Committee on the Safety of Silicone Breast Implants and the FDA (July 1998).
Breast Implant Removal: Basics I
Topic: Linda L. Haas, Feng Clinic CEO, answers basic scheduling questions from patients who have just started researching breast implant removal. Videos: Part I and Part II.
Breast Implant Removal: Basics II
Topics: pathology, mold/microorganisms, detoxification, coinfections/diseases, selecting a surgeon, silicone vs. saline, capsule removal, lymph node removal, hormones and symptoms of BII. Video and Transcript.
Breast Implant Removal: Basics III
Topics: the aesthetics of the breast, muscle repair, mastopexies or breast lifts, fat transfer and who is a candidate. Video and Transcript.
Breast Implant Removal IV: Detoxification
Topic: An in-depth discussion of detoxification before and after breast implant removal. Video.
Will I recover from breast implant illness without lymph node removal? (Video)
Is There A Connection Between Lyme Disease and Breast Implant Illness? (Video)
MTHFR and breast implants (Video)
Dr. Feng Webinars I-IV and YouTube Channel
Research articles and studies:
Pathology of lymph nodes from patients with breast implants: a histologic and spectroscopic evaluation (2005)
Restricted and Shared Patterns of TCR β-chain Gene Expression in Silicone Breast Implant Capsules and Remote Sites of Tissue Inflammation (2000)
These data suggest that shared, antigen-driven T cell responses may contribute to chronic inflammation in SBI capsules as well as systemic sites of tissue injury.
Analysis of Risk Factors Associated with Rupture of Silicone Gel Breast Implants (1999)
Significant risk factors for breast implant rupture were identified: older implants, retroglandular implant location, implant contracture, local symptoms, certain implant type, and certain manufacturer.
Sonographic assessment of silicone gel breast implant integrity: Radiologic-pathologic correlation with reported and new signs of rupture (1996)
Sonographic diagnosis of silicone adenopathy in patients with breast implants and direct-injection-radiologic-patholoigcal correlation (1995)
Phenotype of lymphocytes associated with the inflammatory reaction to silicone gel breast implants (1994)
The tissue response to silicone gel breast implants typically includes an inflammatory infiltrate that consists of macrophages, foreign body-type giant cells, and a variable number of lymphocytes and plasma cells.
Autogenous tissue breast reconstruction in the silicone-intolerant patient (1994)
Silicone may spark Sjorgen's like syndrome (1993)
DR. HENRY DIJKMAN – 
PATHOLOGIST
Human adjuvant disease: presentation as a multiple sclerosis-like syndrome (1996)
Disquisition on human adjuvant disease (1995)
Adjuvant breast disease: an evaluation of 100 symptomatic women with breast implants or silicone fluid injections (1994)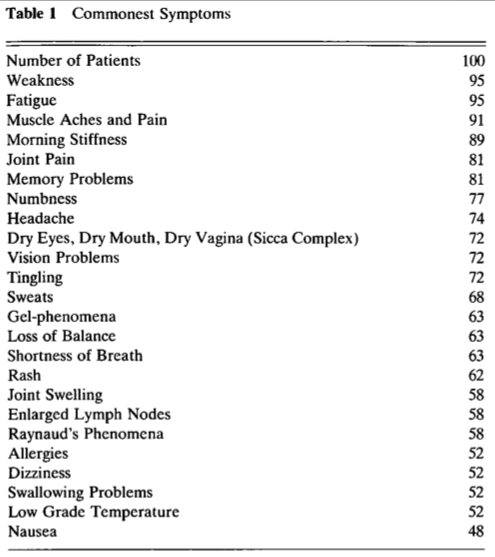 Atypical chest pain syndrome in patients with breast implants (1994)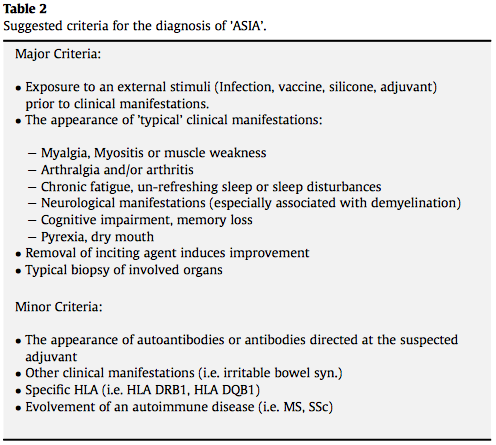 Fibrosarcoma after silicone breast augmentation: is there a connection? (1998)
Light and electron microscopic study of an invasive cribriform carcinoma with extensive microcalcification developing in a breast with silicone augmentation (1994)
Breast carcinoma occurring in association with silicone augmentation (1993)
DR. DAVID SMALLEY AND DR. DOUGLAS SHANKLIN –
IMMUNOBIOLOGY AND PATHOBIOLOGY
These are two experts who did a lot of work in the immunology of silicone breast implants.
Kinetics of T lymphocyte responses to persistent antigens (2006)
Dynamics of wound healing after silicone device implantation (1999)
Monocyte-dependent stimulation of human T cells by silicon dioxide (1998)
Additional surgery after breast device implantation (1998)
The immunopathology of siliconosis. History, clinical presentation, and relation to silicosis and the chemistry of silicon and silicone (1998)
Recent evidence confirms the fundamental involvement of the human immune system in the reaction to implantation of silicone-based medical devices.
Analytic review of the scientific literature on silicone immune responses: comment on the article by Marcus (1997)
Lymphocyte response to silica among offspring of silicone breast implant recipients (1996-1997)
Microscopic techniques and histologic findings in silicone mammary implant capsules and regional paranodal tissues (1996)
T cell-mediated immune response to silica in silicone breast implant patients (1996)
Immunologic stimulation of T lymphocytes by silica after use of silicone mammary implants (1995)
Dr. Douglas Shanklin as a pathology expert witness:
The plaintiff's pathology expert, Dr. Douglas Shanklin, indicated that, based on the cellular responses shown in the pathology slides of Mrs. Vassallo's breast tissue taken at the time of explant, the rupture had been longstanding, perhaps for several years. According to Dr. Shanklin, Mrs. Vassallo's pathology slides showed silicone granulomas, giant cells, lymphocytes, and macrophages, all of which indicated a chronic immunological and inflammatory reaction to the silicone implants. Dr. Shanklin also identified deposits of silica and lymphocytic vasculitis, which, he testified, were evidence that Mrs. Vassallo suffered from an autoimmune disease caused by the silicone gel.
DR. FRANK VASEY –
RHEUMATOLOGIST
The dark side of silicone breast implants (2007)
Where there's smoke there's fire: The silicone breast implant controversy continues to flicker: A new disease that needs to be defined (2003)
Nevertheless, we believe the significant problems of eventual undetected silicone envelope rupture and risk of systemic symptoms should dictate removal of silicone gel-filled breast implants from the market as too dangerous for human use as the physiologic equivalent of the injection of loose silicone gel into the human body.
An extensive informed consent does not deter women who are obtaining silicone breast implants at a higher rate than ever. They do not appear to understand that "saline implants" have a silicone envelope. Some of our patients with "saline implants" have the same symptom complex and local complications as patients with gel-filled implants, but they should be safer because there is less silicone load and any rupture releases saline.
Silicone breast implants and fibromyalgia (2001)
Epidemiology versus outcome. The silicone breast implant controversy (1999)
Clinical experience with systemic illness in women with silicone breast implants: comment on the editorial by Rose (1997)
Multiple myeloma in women with silicone breast implants. Serum immunoglobulin and interleukin-6 studies in women at risk (1996)
Scleroderma in women with silicone breast implants: comments on the article by ánchez-guerrero et al (1995)
Observation on women with breast implants (1995)
Clinical observations suggests consistent chronic fatigue, muscle pain, joint pain, lymphadenopathy, peripheral neuritis and bladder dysfunction syndrome.
Clinical findings in symptomatic women with silicone breast implants (1994)
We believe this series supports a relationship between silicone breast implants and rheumatic disease signs and symptoms.
The breast-implant controversy (1993)
DR. EDUARDO FLEURY –
RADIOLOGIST (BRAZIL)
Dr. Eduardo Fleury is a radiologist, MD, phD, Postdoctorate and Professor of Medicine with 20 years of experience. Since 2016 he has been studying breast implants and their complications. He described the pathology of silicone bleeding in intact breast implants (see articles below) and has created a website regarding silicone gel bleeds: sigbic.org. He has written a book on his five years of research related to silicone disease, 'The voice of silence: when science is the enemy: The Breast Implant Illness Journey'. He is in the Facebook group Breast Implant Illness Patient-Clinican Discussion and sometimes reviews women's MRI, PET, and CT scans.
Video in Portuguese summarizing Dr. Fleury's research on breast implant illness, Breast Implant Illness – SIGBIC – Doenca do Silicone (2020).
Synchronous breast implant associated anaplastic large cell lymphoma (BIA-ALCL) and silicone induced granuloma of breast implant capsule (SIGBIC): What to learn (2020)
Synchronous silicone-induced granuloma (SIG) of breast implant capsule (BIC) an gluteal implant capsule (GIC): what to learn (2020)
Breast magnetic resonance imaging (BMRI) in the diagnosis of breast implant-associated anaplastic large cell lymphoma (BIA-ALCL): findings beyond late seroma (2020)
Silicone induced granuloma of breast implant capsule (SIGBIC) diagnosis: breast magnetic resonance (BMR) ability to detect silicone bleeding (2020)
Breast implant-associated anaplastic large cell lymphoma (BIA-ALCL): an open wound (2020)
Clear to cloudy II: radiological perspective of silicone breast implants (2020)
Silicone-induced granuloma of breast implant capsule mimicking anaplastic large cell lymphoma (2019)
What is different between the silicone-induced granuloma of breast implant capsule (SIGBIC) and anaplastic large cell lymphoma (ALCL)? (2019)
Silicone-induced granuloma of breast implant capsule (SIGBIC): histopathlogy and radiological correlation (2018)
Application of breast ultrasound elastograpy to differentiate intracapsular collection from silicone-induced granuloma of breast implant capsule complementarily to contrast-enhanced  breast magnetic resonance imaging (2017)
Breast magnetic resonance imaging: tips for the diagnosis of silicone-induced granuloma of a breast implant capsule (SIGBIC) (2017)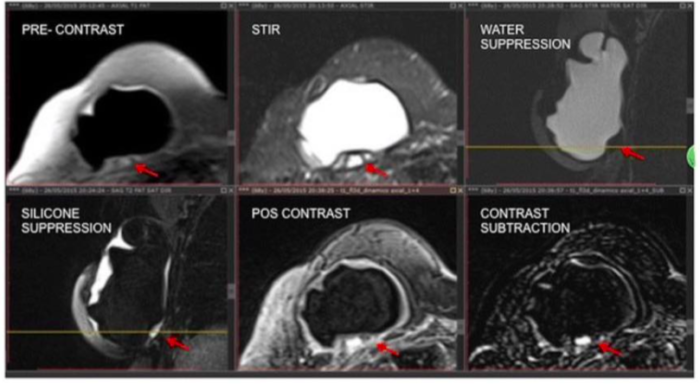 Silicone-induced granuloma of breast implant capsule (SIGBIC): Similarities and differences with anaplastic large cell lymphoma (ALCL) and their differential diagnosis (2017)